This is a tissue paper flowers craft project that is so simple, it can easily be done by children 6 years and up.
You and they will love it, as each flower takes only minutes to produce and looks stunning!
Craft Supplies Needed
Besides some scissors, Scotts tape and some recycled twist ties, you'll need:
1/ Crepe paper or tissue paper. The online bargain for quality tissue paper to suit this project can be found here at Blick Art Materials:



24-Sheet Package (for as cheap as $1.99!)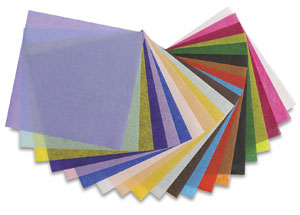 2/ Rag pipe cleaners. From the same source, you should get Creativity Street Big Box Pipe Cleaners
. Click links or image to investigate and order.
Uses for Tissue Paper Flowers (also called Crepe Paper Flowers)
* As a bouquet or single flower
* To decorate a room for a party
* To give away as a Valentine
* To embellish a present
* As a Spring classroom project
* Attach them to child's dress-up outfit, or tie the pipe cleaner ends on a pony tail.
* As a garland for a little girl's room
* To decorate a dining room table
* For mother's day (in red, pink, orange & white)
* For father's day (in blue & green)
* As a prop for a school play (which is why I am making them), and
* I am sure you can think of other applications also.
Craft Project Instructions
1. Cut 3-4 pieces of crepe paper or tissue paper of 14×16 cm approx (rough is ok)
2. Pile the tissue paper, smallest on top
3. Fold the pile of tissue paper like an accordion using narrow folds
4. Use a tie-twist or a pipe cleaner to tie around the middle of the paper
(now it looks like a bowtie)
5. Fold the bow tie in half by pulling the ends of the crepe paper towards each other
6. Gently separate each sheet of crepe paper
7. Give a good squeeze at the bottom of the flower and shape it with your hand.
Your beautiful flower has emerged.
Where to Buy Tissue Paper


Whenever I can, I'd like to give you a couple of good references for suitable craft materials (in one or more online crafts stores). I usually do a bit of research for this, as you know. So, let me recommend you this one: The online bargain for quality tissue paper to suit this project is this.
This is a pack of assorted colors, which are beautiful colors, rather than your run-of-the-mill boring basics. The papers are evaluated as very high quality. Note that they are generous sized papers compared to other packages out there. Larger paper means a better value for money, but also greater crafts versatility. Besides being good for a range of crafts, this paper is what you'll need to make tissue paper flowers.
Tips for Successful Crepe Paper Flowers
1. For the flower center, I prefer tie-twists rather than rag pipe cleaners as that make for an easier-to-fold bow tie. It's also more 'environmentalist' to reuse old twists. (I use ragpipe cleaners as flower stems.)
2. If you separate the sheets all the way back to the fold, you get a nicer flower
3. Use your hand to round out the shape at the end. Crepe paper is easily molded.
4. I find that the folds should not be too large to get the best looking flower – aim for 0.5 – 1 cm wide
5. A roll of crepe paper is usually 50 cm wide, fitting 3 pieces of 16 cm.
So, cut your strip of crepe paper14 cm wide.
Or, click here for ideas for flower variations as well as more advanced paper flower instructions.
Alternative Crepe Paper Flower Creations
* Make multicolored ones by placing a 4th contrast color piece on top of your pile for the center. (tip: make this paper size 2/3 of the other pieces for a more natural flower look)
* Play around with 3 tones of colors, adjacent to each other on the color wheel.
* Sculpt the left & right edges of the paper pieces, particularly suitable for the tissue paper ones. This gives a little more sophisticated look.
* You can make them with or without stems. If you don't use a stem, use green pipe cleaner for a finished look.
* You can cover a pencil in green paper and attach the flower at the top, for a really cool pencil for you. Or, if you buy dad a new fountain pen for Father's Day, this would make a really beautiful presentation.
* You can attach them to a larger tree branch, and make a flowering 'tree'. See the last picture in the tutorial. If you click on the image, it shows you a larger version.
* Make a jeweled garland and space out the crepe paper flowers and the tissue paper leaves. See picture above on the left.
If you like to feature this article and/or the images on your blog, please link to this article. Do NOT duplicate all the images or the materials. Please just only 1 image and a snippet to link to this article. Please use either paper flowers, or Fine Craft Guild as your keywords, rather than 'here'. Thank you so much!